I was commissioned by YCN and GAP to make 7 paper cities for the GAP window in Milan as part of the Milan Design Festival. Along with some brilliant illustrators and paper crafters we made an exciting colourful display in collaboration with luxury paper company Fedrigoni!
Cuppa tea and working things out in my sketch book
Here's me making maquettes of each city to work out how they will pop up. Because each paper city was being shipped to Milan from my studio in London, I had to make the models so that they could be flat packed and transported as easily as possible. I decided to treat each one as a giant paper pop up – they could lie flat as well as come to life as a 3D pop up model and I wanted each city to pop up in a different way.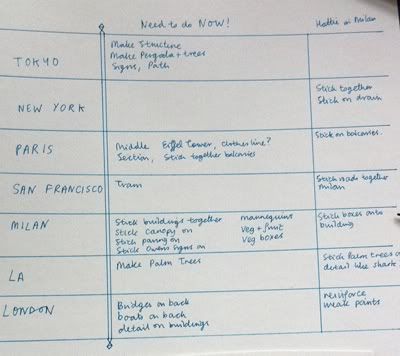 Time to make the final models! Here's New York and Milan being made in my studio and a list of things to do in the last few days before the courier arrived.
....and arrived safely in Milan!
The amazing Jamie Brown (in the left window) made and installed his playful vinyl type while Alex of YCN (in the middle window) helped me hang all the paper cities and models.